iO Pages Interview with Niko Tsonev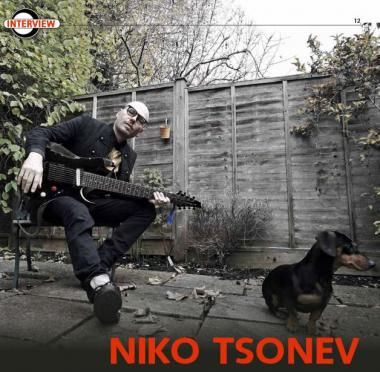 IOPages: Niko, people know you from the Steven Wilson Band and from Lifesigns. But now you have a totally new project, 'Moonparticle', and a new album, 'Hurricane Esmeralda'. Before we come to the new project...
In the eyes of many you are a guitarist's guitarist. can you tell me a bit more about your background? Why guitar, how did you reach this high level, with whom did you play before Wilson and Lifesigns? What about your earlier projects?
Niko: I do consider myself as the perennial student of the guitar but although I often use what people call 'extreme guitar techniques' I do try to be disciplined enough as in not allowing those to shape or dictate my music. For people who are not musicians I could say that technique is all about the body and its interface with tools, and I consider music more as the language of the inner soul, as corny as this may sound. So a fine balance is important - keeping that 'language' pure often means that you have to forget about musical chops - a balance which is more challenging for 'adventurous musicians' than one might imagine.
The guitar and I are joined at the hip though - often quite literally, as I do spend a lot of time every day exploring and constantly trying to get better at it. This is the only way I know to get really good and I don't think there is a shortcut for it. I did start really early and having been obsessed with technical chops as a teenager has really given me a great foundation to connect at a deep level with the guitar. What I've been improving on ever since then is musicality really and there's no better way to do that than playing with great musicians.
I've been involved with many acts - from my teenage band Lacryma Christi that could have given Rush or King Crimson a good run for their money, to later joining math metal and ska punk outfits and gigging with Florida-based blues/soul artist J.J. Grey in the late 1990's. Around 2001 I started doing TV sessions for frankly speaking, 'disposable pop' artists, as well as recording sessions for emerging UK urban acts. This was a time when the music industry was really struggling and being a jobbing musician often felt like being one of those charlatans in the Wild West selling miracle drugs - "You want badass guitar on your song, right, give me fifty, oh your studio needs acoustic calibration - give me another bill and I'll fix that too…".
This really had a positive effect on me though, allowing me to grow in all directions and now I can honestly get as excited about monitor speakers and audio cables as with altered scales, diminished arpeggios and hybrid guitar picking.
IOPages: How were you recruited by Wilson and what were your experiences being in his band (and on DVD). Why did it stop?
Niko: While doing sessions, I did miss 'proper guitaring' as I call it, so I ventured into putting some guitar-focused music out as myself. My debut 'Black Feather' was inspired but left me unsatisfied, sonically speaking. A friend sent my second EP 'Nix Hydra' to the "Porcupine Tree' guy he had just mastered a record for and I thought nah, it will be just another case of digital silence in terms of response. But I had an email from Steven Wilson - pretty much within fifteen minutes - apparently my stuff was 'not bad at all' and he was very curious about my music. I sent him a 'showreel' - I guess he wanted to make sure Venetian Poison wasn't just a fluke or something. We met, I learned his tour set list and in January 2012 we rehearsed for a couple of days - not even that long, as the band was really cooking from the word 'Go'. A further week later (two or three shows in) we were shooting a live concert film in Mexico (Get All You Deserve) - needless to say, the pressure was immense. Although I had done a 'spectacular job' I was told that another musical flavour was required for the follow-up and I'm sure SW fans know of all the various SW Band guitar chair changes ever since. Playing with this bunch is just 'it' - great people, great music and immense musicians! Steve and I remain good friends and he has been continually supportive of my solo career...
IOPages: You joined Lifesigns after the first album and were a main focus in releasing the live DVD. How was it playing in Lifesigns, how did it work between you all and why did you leave (the band was building a great life reputation).
Niko: On the first day of the above-mentioned SW Band rehearsals, Nick Beggs introduced me to his 'other band' as it was at the time - Lifesigns, who were just mixing their debut album in the same studio. A year later John Young dropped me a line about some live shows and we got together, ending up playing a ton of shows all over the UK, Europe and a couple of the Cruise To The Edge fests in the US. Lifesigns felt like family - all of them being the super mature and down to earth people and the very unique musicians that they are. I remember the moment I dropped the email to the guys about shooting a live concert and little did we know of the monumental effort it would take to make this into a reality. I certainly feel like I raised my game enormously - both from a playing perspective as well as dealing with the elements of audio and video post-production. We really managed to stand up to the challenge as a band and 'Under The Bridge' will remain as one of the great live rock concert films in my opinion. In regards to the reason of me parting ways, I have mentioned it before - as much as I love Lifesigns as people, I felt that my musical direction was elsewhere. Again, we will always be like family - we are that close.
IOPages: What is the story behind Moonparticle? How did the writing process go? How did you get great musicians as Craig Blundell, Adam Holzman and Theo Travis on board? How did the recording process go?
Niko: Around 2016 I sort of met a 'black dog' (depression) in regards to my musical career - I was certainly somewhat busy but not doing what I felt was right, and even not feeling as if I had any fresh music left in me. I'd been 'studying' Steely Dan's Pretzel Logic for a while and asked myself if I could pull something like that together - quite a song-driven album while still celebrating heavy musicianship. I envisioned it as a project and got in touch with Craig Blundell, Adam Holzman, Theo Travis, Grog Lisee and Samy Bishai - all of them dear friends. This took place around the summer of 2016 and the idea was still quite vague - it certainly took a while before the gears were in motion, but at least by the end of 2016 I had written most of the music and done the pre-production for the album.
In terms of the recording process, all of the above-mentioned musicians are established artists, stars even, who are at the top of their game as Craig Blundell puts it. We all happen to have our own recording studio facilities so we didn't even have to meet for the recording sessions. All was done online - quite a common process now, known as stem file sharing. Of course I had prepared some very involved demos (especially for Craig and Grog), plus extensive notes about the stylistic approach, chord charts, tempos and so on.
For me, drums are the foundation for a great sounding (rock band) production - before drum tracking is done everything for me is just a demo in a sense. The drums on my 2013 album Banshees and Harpsichords were done by me (using real drummers' performances but mapped, manipulated and arranged within a recording software), so I knew what I wanted drum-wise for Moonparticle - down to some pretty obsessive details. I was looking for a big change from that "virtual drummer' sound, which is certainly convincing and realistic but lacking musical personality. Things just fell in place with Craig - our shared stylistic musical background (we both approach progressive rock from a slightly different angle than the norm), the fact that he had just revamped his home studio… all of that felt right.
So I prepared extensive drum demos and sent him eight songs. The drum tracks that came back just blew me away and not just because they were beautifully recorded and bursting with chops, but because of Craig's musicality and natural understanding of the songs and of where the music needed to go. Suddenly the demos blossomed...
I had already worked with Adam Holzman and Theo Travis in Steve Wilson's band and we are good friends. I had to prepare some chord charts and scribble down some lines (the themes of Michelangelo Don't Stop for instance) but mostly their parts are just them 'going for it' with no edits. Adam really liked the quirky harmony progressions and the first thing he said was "This is like Genesis crossed with Brecker and Steely Dan". I really wanted his 70's New York sound (one of many that he has) so the basic direction request was: bring your coolest sounds and Jan Hammer-esque leads and be yourself... That's what you get on the record - his unmistakable brilliance is evident throughout and one of the many high points for me is his fusion solo at the end of the song Hurricane Esmeralda (which I transcribed and doubled note for note - synth is panned to the left, guitar - to the right). As the saying goes, if you can't beat them, join them…(laughs).
Similarly, Theo Travis is a jazz giant who just happens to be brilliant at Prog too - just ask Fripp or Gilmour... He came up with these beautiful flute (and bass flute) parts that would just transform the material and I love his sax solo on Michelangelo and his 'flutescapes' (flute through echo delay boxes and loopers) on Leon's Experiment. The tail end of the album is pure Theo magic and it's just meditation-inducing.
Samy Bishai, the genius violinist, who makes an appearance on the track Helium II is one of my closest friends and although we initially thought of going for crazy 6-string electric violin over-the-top shredding, we opted for… an even harder approach to his string parts - a classy and beautiful Russian impressionist type of a string arrangement for two violins and two violas - all played by himself of course. This song is very dear to me - it was one of the first things I ever wrote (in my early teens) and in its finally recorded versions also features Theo's beautiful flute melodies.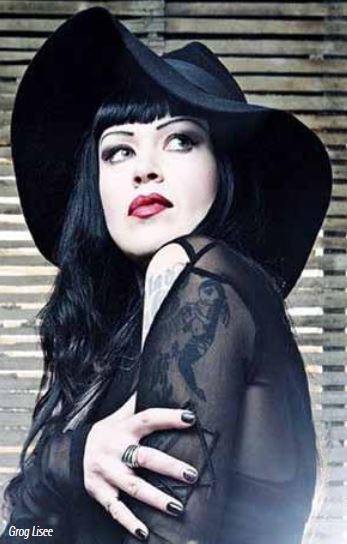 IOPages: The album has great female vocals, who is the singer and where did you find her?
Grog Lisee (also known as I Am Grog) makes an appearance on three songs of the album. She is the driving force (lead vocal and bass) behind the British cult band Die So Fluid. We've known each other for a long time and in my opinion she should be a household name - she is just an incredible artist. Grog had already contributed vocals on a song (Acid Tears) from my last 2013 solo album, but this is the first time we wrote music together - and the songs Hurricane Esmeralda, Winter Mountain and The Strength Of A Thousand Year Rose are so very special from a writing perspective. Her vocal style is exquisite.
IOPages: Brett Wilde did the artwork of the album - how did that go?
Niko: Yes, the artist Be Wilde (as he credits himself) may be quite well known to some on account of his stunning album art - all three Lifesigns albums (and lots more) were designed by him. I've been told he only does that for close friends, so there you go, I couldn't be happier. I on the other hand suspect Brett may have regretted starting this on a few occasions (said jokingly of course) - we went through so many concepts and variants for both the album cover and the inner graphics, but this is also partly because of his prolific way of working. I loved everything he would come up with, though when I saw the image of the 'ocean goddess girl' (the album cover) I knew this was it - it's just so immense! Mr Wilde is really one of the best out there - simply because he doesn't follow any rules but his own while having incredibly high standards of course.
IOPages: You did a pledge with Pledge Music. How did that go? You released the album yourself. Why? Will there be vinyl?
Niko: We did the album pre-order through PledgeMusic and I've been very impressed with their professionalism - everything is so well organised and they are really geared towards helping artists reach their goals and audience. I can't thank enough everyone that pledged - I don't think that we would have managed to put this together otherwise. This of course, begs the question 'Why not through a record label?'. Several options were on the table in terms of labels but in my opinion if the contract isn't right, nowadays it makes much more sense to go for a smaller but higher quality release. Interest in vinyl is indeed huge nowadays, so yes, we are putting out Hurricane Esmeralda on vinyl - Chris Topham from the UK vinyl-only label PlaneGroovy has been very supportive and super-helpful. The album sounds incredible on vinyl and the artwork really deserves it too.
IOPages: Are you involved in more projects? I know you also did film scores, teaching and production work?
Niko: The last six months have been dedicated pretty much exclusively on putting together and producing Moonparticle and this has been quite a monumental effort. I do enjoy challenging side projects but of course they need to be at the right level - both from an artistic and economic perspective. When they are, everything clicks, everything is easy. I have done a fair amount of that - mixing and producing, scores, guitar sessions, touring and masterclasses. I have to do it, since I am a professional musician. At the same time as mentioned earlier, very often, side projects can have the uncanny ability to hijack one's main direction and my aspirations at the moment are really to be growing my presence as a world-class guitarist and musician - by touring Moonparticle aided by a delicious mix of the above mentioned freelance jobs. Music wins though, if the music is good I will always be willing to put time and effort into a fresh musical project...
IOPages: And of course, are you going to bring Moonparticle to the road? And when? Craig and Adam are in the Steven Wilson band, so who will be in the band?
Niko: Moonparticle's debut album Hurricane Esmeralda really deserves to be experienced live and I am working on the logistical challenges of getting this on the road. It might have to be a combination of support slots, festival appearances and even one-man shows (with a guitar and a laptop) - to make this work I will need a good dose of luck and the help of people who believe in the project, but I am very hungry for this to happen. It would be a dream come true, especially if done with the musicians featured on the album. I do have many muso friends who are monster players and who for sure would enjoy playing this material but I won't drop names at the moment - simply because at the time of this interview I am still finalising the actual record release. All I can say is that if you have heard the album, or if you are about to, based on this little interview, please take the time to follow Moonparticle on our social channels after streaming or buying the album - we will be announcing news on gigs soon! When that happens, bring a friend...